Phabis Expert
Is dead stock weighing your business down? Do you know your Key Performance Indicators?

Phabis Expert - BI
Why Phabis Expert – BI?
Phabis Expert – BI sets a foundation for more efficient business and management of the pharmacy market in Serbia, Montenegro and Bosnia and Herzegovina.
Quick and easy to access on multiple devices
User friendly business reports
For executives, regional managers, pharmacy managers
Comparison of historical and current data
Comparison of actual and planned sales turnover
Sales, stock and purchase KPI's
Benchmark values of sales and stock
Sales and purchase per manufacturer
Purchase per supplier
Export all reports to Excel and PDF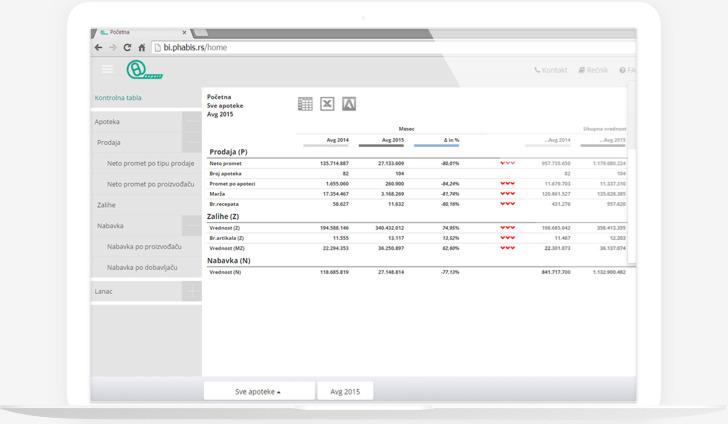 Contact us
Phabis Expert - BI benefits

Helps you to make quick sales decisions

Back up your claims with credible data in negotiations

Key Performance Indicators are just one click away

Saves your time and effort

Useful data visualisations
Testimonials

ZUA VIVA PHARM
Miloš Šakić
User-oriented software, very easy to use. The advantage is a central database that enables work in multi-branch healthcare institutions, with a large number of reports and the possibility of exporting them, making it easier to monitor and analyze business. I would especially like to compliment always available and professional customer service.

BIZ RAČUNOVODSTVO
Biljana Šutanovac
I have been using Phabis Finance from the very beginning. It is very user-friendly, transparent and clear, and the most important - the support for the program is great (although it's so simple and clear that you need support only in a few specific situations). Since I have worked with several accounting programs, I can say that the part for POPD form is done really well and it is very easy to use.

ZUA DEMETRA
Endre Bebenjac
We are very satisfied Phabis users. The SUPPORT TEAM solves every problem as soon as possible, regardless of whether it is a weekend or a holiday. We have been using Phabis for 5 years now and from the beginning to the present day the level of cooperation has not changed. The program is constantly updated, follows trends, new laws and regulations so we are always up to date with changes. We have significantly improved our business. Our warm recommendation!

ZUA UNIPROM M
Zorica Ignjatović
We have been using Phabis for the last 4 years. We are truly satisfied with the software and we are extremely satisfied with the customer support, which in addition to software's ease of use is very important. Well done!

ZUA LAURUS
Vladimir Džanić
We have solved many long-standing problems with Phabis softvare. Working with patients, as well as the administrative part, is considerably facilitated. Software is extremely user-friendly and offers lots of features. Each suggestion has been accepted by the customer service as a proposal for further improvement of the program. Communication with the customer service and solving any problems are extremely fast and successful. After a few months, the only thing we can say is that for majority of the processes we have significantly reduced the execution time, with high data credibility.