Phabis POS & Backoffice
Software for strategic pharmacy management

Phabis POS & Backoffice briefly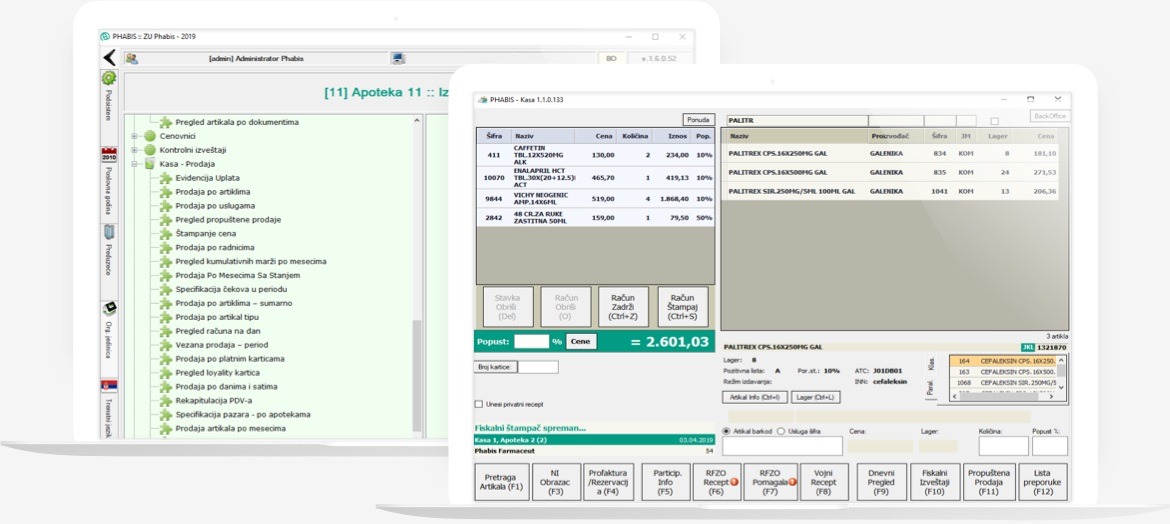 Phabis master data as a starting point makes it easier for you to manage inventory, create an optimal pricing policy, access to any data at any time. Processes management is centralized, manage the whole chain from one central office. Forget the expiry date book and let us alert you if there is an article with a short expiry date by coloring it. If the article is a part of the marketing campaign or the list of recommendations, it will also be coloured differently. Encourages your consumers to buy more with one of our Loyalty models. Prescription management for both state and military prescriptions is simple and easy, as well as invoicing insurance funds. If you consider a webshop or already have one, we have a solution to connect it to Phabis.
Optimize your stock through the order form that suggests articles and quantities, based on the complex formula. Ordering process from the most important suppliers is automated and one centralized order for all pharmacies in your chain is also possible. Stock level can be increased automatically or importing the file provided by the supplier.
Discover numerous reports regarding sales, purchases, inventories, loyalty cards, campaigns etc. Enter your protocols and easily get the information you need to continue successful cooperation with your business partners. Centrally manage user/group rights and permissions for your employees.
By implementing Phabis software, you leave more space for your pharmacists to consult patients, for administration to work easily, and for management to simply get any information at any time and strategically manage the system.
Phabis benefits

Possibility to centrally handle processes

Automated purchasing process

Master data

The central database located on the central server

Local databases from pharmacies are linked to the central database
Testimonials
User-oriented software, very easy to use. The advantage is a central database that enables work in multi-branch healthcare institutions, with a large number of reports and the possibility of exporting them, making it easier to monitor and analyze business. I would especially like to compliment always available and professional customer service.
I have been using Phabis Finance from the very beginning. It is very user-friendly, transparent and clear, and the most important - the support for the program is great (although it's so simple and clear that you need support only in a few specific situations). Since I have worked with several accounting programs, I can say that the part for POPD form is done really well and it is very easy to use.
We are very satisfied Phabis users. The SUPPORT TEAM solves every problem as soon as possible, regardless of whether it is a weekend or a holiday. We have been using Phabis for 5 years now and from the beginning to the present day the level of cooperation has not changed. The program is constantly updated, follows trends, new laws and regulations so we are always up to date with changes. We have significantly improved our business. Our warm recommendation!
We have been using Phabis for the last 4 years. We are truly satisfied with the software and we are extremely satisfied with the customer support, which in addition to software's ease of use is very important. Well done!
We have solved many long-standing problems with Phabis softvare. Working with patients, as well as the administrative part, is considerably facilitated. Software is extremely user-friendly and offers lots of features. Each suggestion has been accepted by the customer service as a proposal for further improvement of the program. Communication with the customer service and solving any problems are extremely fast and successful. After a few months, the only thing we can say is that for majority of the processes we have significantly reduced the execution time, with high data credibility.